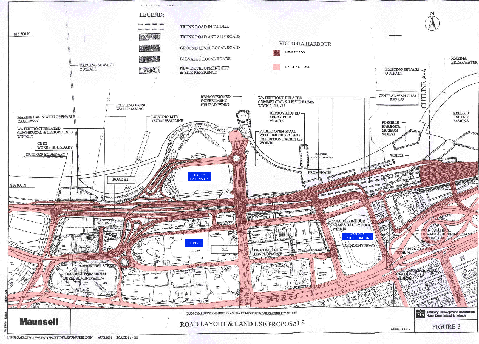 Click here to view the larger map.


April 12, 2004
It's not too late to change direction
PAUL ZIMMERMAN


With the heated reclamation debate, it is easy to forget that the real issue is how we design the harbour district, our most valuable land where the majority of our financial, commercial, cultural, entertainment and arts facilities are located. It has long been recognized that a vibrant harbour foreshore is needed with public open space, parks, promenades, arts, cultural, entertainment facilities and liberal pedestrian access. There is a business case for this: A world-class harbour district will lure residents and tourists to spend more time – and when they do, they spend more money and bring more friends.

Without reclamation and available land limited, our planning decisions today are final. Therefore an intricate trade-off is needed between new government, exhibition, office and retail facilities combined with supporting transport infrastructure, versus public space and facilities. For the sustainable economic viability of the harbour district, a genuine integrated master planning process must involve all business sectors, government and civic groups, cover all surrounding districts, consolidate all wishes, and include both land-use and transport policies.

By reviewing the harbour district as a whole, we can rethink where we place facilities. Venues can be swapped, setting a new direction for Kai Tak, reducing the pressure on Central/Wanchai, driving the renewal of Kwun Tong and Sheung Wan, and addressing many of the problems envisaged with the plans for West Kowloon.

The priority on Hong Kong Island is to open up the foreshore by reviewing the planned surface road systems, the alignment of the Central-Wanchai Bypass and reducing the planned new developments. Congestion relief is needed, but current road designs are based on old population-growth assumptions, a much larger reclamation, and the inclusion of a great number of new facilities in Central and Wanchai, which are either not required or could preferably be located elsewhere in the harbour district.

Despite the addition of a six-lane underground bypass, massive surface roads are planned which will choke the harbour. Up to 13 lanes of surface roads will be added to the existing 4-lane Convention Avenue in front of the Grand Hyatt Coffee Shop. Up to 16 additional lanes of surface road will be added to Gloucester Road. In front of Victoria Park, roads will be stacked five-high with the top deck 21 meters above the ground. The footbridges, walkways and 'groundscrapers' designed to get over these massive roads are inadequate attempts to mitigate the visual and physical damage.

It is understandable that our foreshore is in a bad state given the ever-changing coastline and the fact that Hong Kong only recently changed its economic aspirations for the harbour district. But now is the time to recognize that planning and design mechanisms, which suited fast growth, ample rural land and large reclamations, need to be amended to accommodate integrated transport and land-use planning with only a limited amount of land within Hong Kong's most valuable district.

Government, bureaucrats and professionals themselves are exasperated with our "system failures". The Executive Council's decision to make the chief secretary responsible for West Kowloon, and the financial secretary for Lantau confirms that the need for change is recognized at the highest level. So why not decide the same for Hong Kong's most valuable economic asset, the harbour district, and establish an overriding Harbour Authority aligning Government bureaux and departments?

To get the final design of the harbour district right, residents and businesses must be provided with a clear business case. Where are the alternative master plans and related transport options? What are their environmental and quality of life implications? What are their financial implications, including expected land sales revenue and cost of re-engineering road infrastructure?

In the meantime, how much "extra" time can we buy ourselves by urgently implementing traffic management policies including rerouting bus routes, changing bus stops, limiting loading times, changing tunnel fares and electronic road pricing?

---
Paul Zimmerman is executive director of MF Jebsen International, principal of The Experience Group, a policy and strategy consultancy, and chief co-ordinator of Designing Hong Kong Harbour District


---